At the Heart of Our Process
CyberWorx helps people solve complex problems. More than that, though, we make sure that when we are solving operational problems, they are the right problems given all the circumstances.
Our human-centered, futures-focused approach reorients problems in a way that puts the people directly affected by the problem at the heart of our process. To do this, we employ several research methodologies, depending on the nature of the presenting problem. We use the knowledge we gain from the user community to solve the problem.
We all use inquiry as a method of navigating the world, and we wonder why the grass is green and discover chlorophyll; we wonder how our talent management decisions might affect retention and discover possible trends. Questions are a fundamental component of what it currently means to be human. But not all questions are the same, and not all inquiry is equally effective. Research shapes our inquiry and enables more robust discovery.
When we are helping an Air Force organization, we are helping them explore the problem space to become more knowledgeable about the root cause of their problem.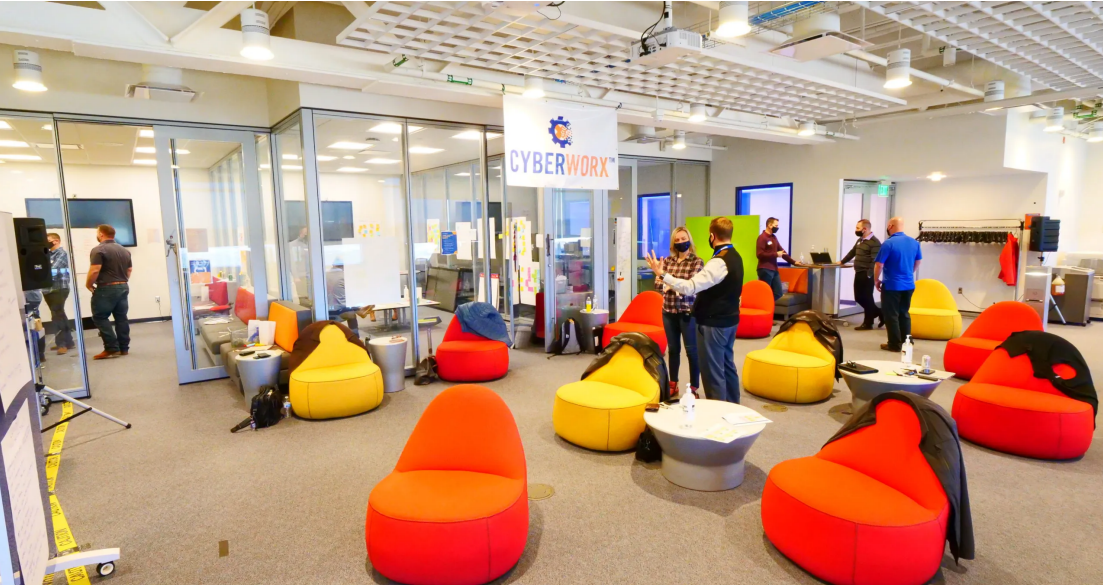 What Makes Us Unique?
The Air Force has a number of research organizations, from AFRL to the Skunks, each with a different perspective on the way they conduct research. When we describe ourselves as a research and problemsolving unit, we are including our organization in this group. Yet, if we were all the same, there would be little use in having multiple organizations. How is CyberWorx different?
We Find the True Problem
Within research methods, AF CyberWorx focuses on generative and exploratory research. What does that mean? When we are helping an Air Force organization, we are helping them explore the problem space to become more knowledgeable about the root cause of their problem. We often use user experience research methodologies; however, for certain problems we also employ research methods from futures studies.
We Focus on the Future
Futures studies comes from a long tradition of using our understanding of the nature of the future to inform the present. However, the goal of a futures practice is not to predict the future. Instead, the goal is to use future research and methods that give next steps to account for the nonlinearity of the future.
When to Use Futures Research
When would you employ futures methodologies? As the name implies, a futures practice is most valuable when an organization needs to understand how to move forward or gain a greater appreciation of what forward even means.
When coming to AF CyberWorx with a problem in mind, you should consider two main dimensions: time and outcomes. If you are constrained by time, that will constrain the amount of research you can accomplish. If you need more understanding of a problem that includes past and present, or help with a product or process, you will want to consider other research methods, such as user experience research. For outcomes, if you need help crafting strategy, this is well-suited for futures research.
5 Steps of Futures Research
There are five major steps that frame our futures practice here at AFCyberWorx: horizon scanning, problem definition, scenario making, analysis, and strategic output. It is important to know that while some of these can be conducted individually, they produce the best results when practiced together. These are not purely linear but can lead into prior steps or circle back to the beginning depending on the nature of what is learned at each step.
1. Horizon Scanning
Horizon scanning might be the most familiar. It is the process of looking at various sources of information (research papers, news, patents, etc.) and compiling them in a meaningful way. Different futures practices compile these scanning hits differently, but at AFCyberWorx, we often use a thematic approach.
A trend reported on the news can be valuable. However, what is more valuable are the themes and/or values that are fueling the trend. You might read a news article about gradually improving quantum computing technology. While it would be tempting to put that improvement on a graph and use linear predictions to see how that trend looks in the future, this doesn't reflect reality.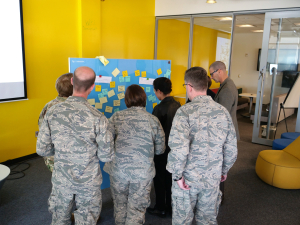 Instead, if you realized that the rise of quantum technology has everything to do with combining our increasing understanding of nature with the technology that best gives us efficiency (computing), you can then see further possibilities of how an understanding of nature might affect computing (or any other technology).
Historical research brings in data from twice as far back as you are looking forward. For example, if you re looking 10 years ahead, you should look back 20 years for historical data. After horizon scanning and historical research , you are nearly ready to add some firm definitions around your problem.
To best define your problem, first speak to the people who experience it. We conduct interviews at AF CyberWorx, though we are agnostic to the exact process. For example, some problems may require more observation than interviewing. Compiling the results at this stage will result in a clear understanding of what the problem is, or at least a general domain of the problem. Now you can do something with this understanding.
For example, some problems may require more observation than interviewing.
3. Scenario Making
Scenarios are one of the core features of a futures practice. It is the art of taking all the data explained prior to this stage and crafting a story of the future from it. It is a sort of alchemy of turning data into creative stories, which will then create insight.
In many practices, a team of writers often connected to the team of researchers will write the scenarios. These scenarios will then be presented to stakeholders of an organization for them to engage with strategic implications.
Where there is merit in doing so, AFCyberWorx employs a workshop method of creating scenarios. We assemble a group of subject-matter experts from government, industry, and academia and leverage the diversity of their perspectives to write the scenarios. Typically, we subdivide the group into smaller groups to generate multiple, disparate scenarios.
4. Analysis
Rather than present the scenarios as is, we do thematic analysis of the scenarios. Why thematic analysis?
We have just used a workshop method to generate scenarios, and now to harness the power of these crowdsourced stories, we need to explore the similarities. Here's an example.
Let's say you broke out the main group into four groups, and each group comes up with a vastly different scenario. We could say one is a doomsday scenario for your organization, another might be a utopian vision, etc. Which has more value to you: four visions of the future that tell you different possibilities, or a set of recommendations based on the overlap of the scenarios? Thematic analysis finds those thematic overlaps.
5. Strategic Output
The themes then become the basis for various strategic recommendations: plans of action, vision statements, and the like. No matter the format of the output, it specifies what actions the stakeholder(s) need to take next.
It is the difference between a check-engine light and talking to your friend who happens to be a mechanic. The check-engine light will tell you that somethings wrong; your mechanic friend can isolate the problem. In the same vein, our strategic outputs can provide more granularity than simply stating something is wrong with the organization, but they will also outline concrete steps to move toward a future desired state.
Was this informative? Be sure to check out our other blogs! You can also follow us on LinkedIn for more educational content!